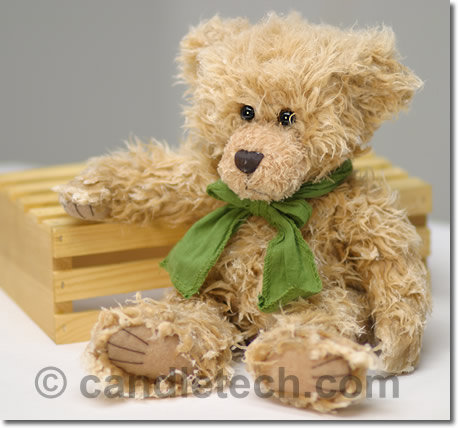 Basic Instructions:
1. Melt wax and add fragrance (about 1.5 oz per lb of wax) stirring well. At this time you can add dye to match darker or colored bears allowing it to blend better with the material. The average wax temperature is 170-200F.
2. After the wax is melted, unplug the cooker so as not to exceed 200F. If the was is too hot, the animal may shrink and become misshapen.
3. Using a pair of tongs, dip and roll the animal in the wax for about 2 minutes or until well saturated.
4. Using the tongs, pull the animal out of the wax and, while wearing thick insulated rubber gloves, squeeze out some of the excess wax. Tip: if you put the animal on a screen over your pot, the wax will drip back into your pot for the next animal. This means less waste and less mess!
5. Immediately use a large tooth wire comb (or fork) to comb or fluff the hair. Longer hair requires more fluffing. This must be done before the wax hardens. (wide-tooth pet combs or picks may come in handy too)
6. Next let cool to the touch, then put on a cooking sheet to finish the process. You can pose them at this point. To completely dry, let stand about 2 hours.
7. Once completely cooled, you can package them in a cellophane or polypropylene bag and tie with a decorative ribbon. We recommend enclosing instructions for care.
Additional Comments:
1. The general consensus is that 1 larger animal or two smaller animals require about 1 lb of wax with the average size being 6-10″ sitting (head to tail).
2. Jointed bears allow for easier posing, but any sitting animal will work well.
3. The fragrance will decrease over time if the animal is kept at room temperature. To refresh the scent, heat with a blow dryer for about a minute. This needs to be done about once a month, or as desired.
4. Some fragrance oils can discolor white animals.
5. Never put wax-dipped animals directly on wood. A dish, glass or metal, will protect the wood surface from stain by the oils in the wax.
6. Keep out of the reach of children, as these animals are no longer toys.
7. Wax dipped animals do NOT need wicks because they are NOT meant to burn. They are only to be used as decorative air fresheners.
8. Get creative with bows, decorations, packaging, accessories and poses. Have fun!
Wax suggestions:
A medium melt-point wax like IGI-1343 (MP: 138-139F) will do well and generally requires no additives for this. While IGI-1343 is a popular choice, any wax suitable for pillars may be used. Some non-sticky container waxes, like IGI-4786, will also work well and may prove advantageous in colder climates since they are less likely to flake. Dye may be used in the wax to match the color of the stuffed animal. Using a matching dye will minimize the "icing" appearance that the wax may produce (although some may prefer the iced look).