Palm Wax is a natural wax that gives you a crystallized effect on your finished candle. In this tutorial we will show the best technique to make Palm Wax Pillar Candles that helps maximize the crystal patterns in your finished candles.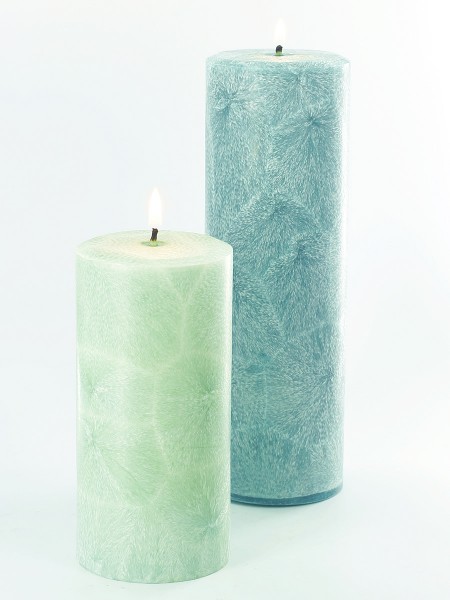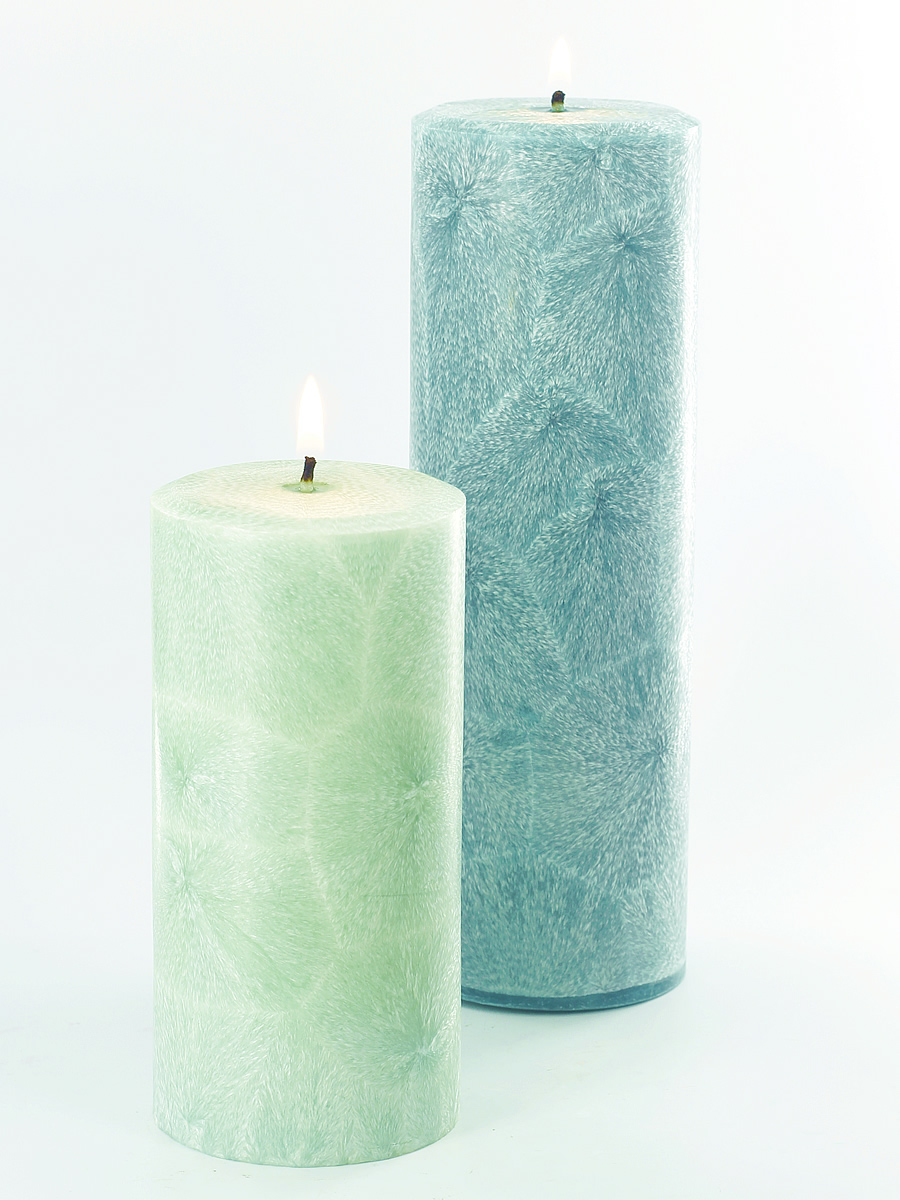 You will need:
–Pillar Palm Wax (Feather or Tortoise Shell)
–Metal Mold (We used M2016 Seamless Aluminum Mold)
–Raw Wick (We used 36 Ply Flat Braid Wick )
–Fragrance Oil
–Concentrated Liquid Candle Dye
–Wick Screw
–Mold Sealer
–Wick Holder Bar
–Heat Gun (optional)
-Paper towels, bubble wrap, cloth, or other form of insulation
Step 1. Choose which Pillar Palm Wax you wish to use and measure out the amount of wax you will need for your mold. Try our handy calculators if you need help determining the appropriate amount of wax. Melt the wax using a double boiler method.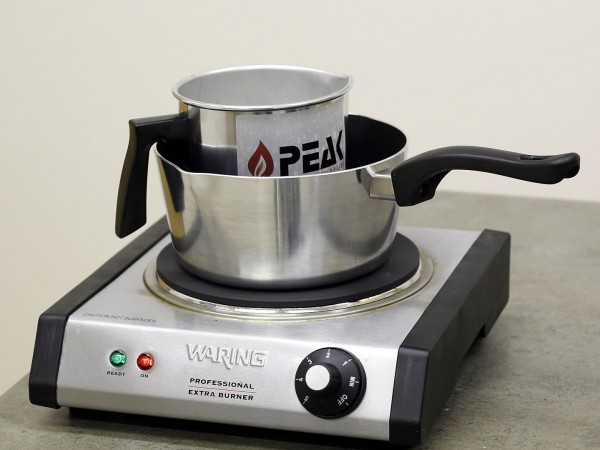 Step 2. The next step will be to prepare your mold. Select the proper wick for the diameter you have chosen to use. Palm Wax is more viscous than other waxes, therefore you will generally need to "wick up" meaning use a larger wick than what Is recommended for that particular diameter.  Since the mold we are using is 3 inches in diameter we will use a 36 Ply Flat Braid Wick. (Testing is always encouraged to find the best wick for your particular recipe.) Thread your wick through the wick hole at the bottom of the mold and secure it with a wick screw. Cover the entire bottom with enough mold sealer to prevent any leaking during the cooling process.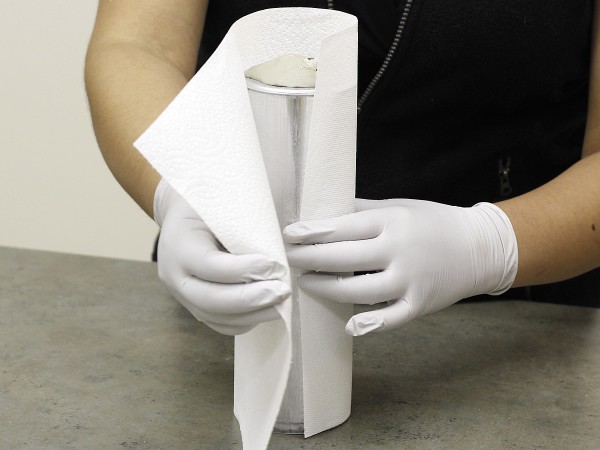 Step 3.  For best results, preheat your mold using a heat gun. If you don't have a heat gun, use the heat from your hands to gently warm the metal if it is cold. We do not recommend placing molds in the oven. Once it completely warm to the touch, wrap your mold with the paper towels to insulate, using tape to hold the paper towels in place around the mold.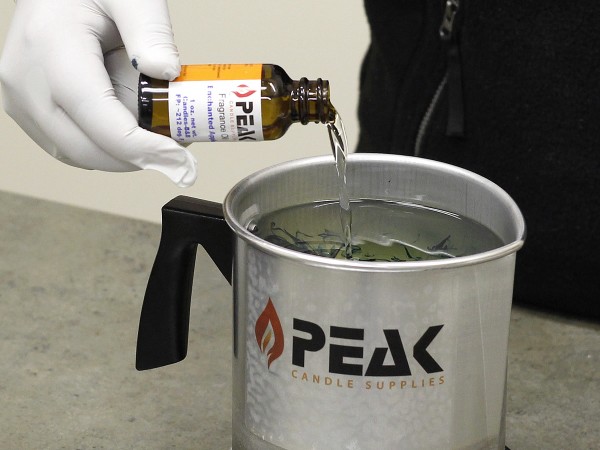 Step 4. Once your wax has melted and reached a temperature of 180-210 degrees F, add your fragrance and dye and mix thoroughly. Recommended fragrance usage for pillar palm waxes is about 5% by weight. (A little less than 1 oz per pound). Once you are ready to pour, ensure that your temperature is around 200 degrees F. If not, put your wax back in the double boiler until it reaches 200 degrees. It is important to pour at this temperature to help the crystal patterns form. Be sure to leave some leftover wax for the second pour.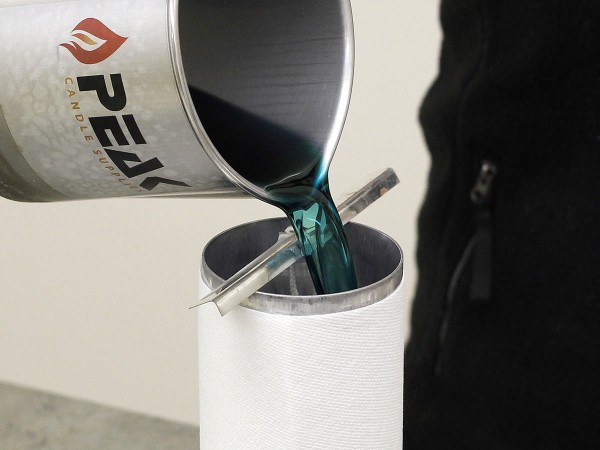 Step 5. As the wax cools, it will form a hard shell on the top layer. Use a skewer or the back of a spoon to poke relief holes, to prevent air bubbles from forming within the candle. Do this several times throughout the cooling process to make sure the holes stay open.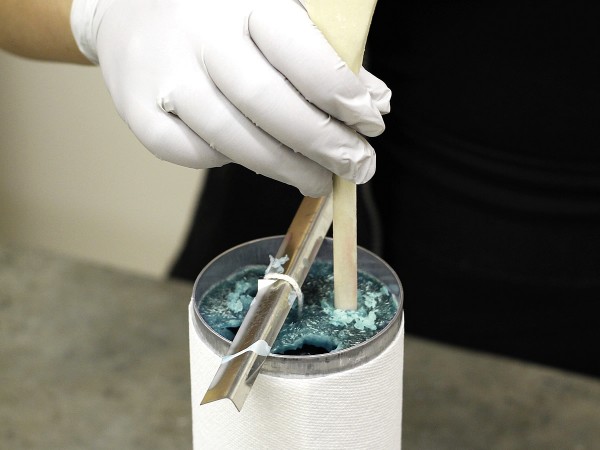 Step 6. When the wax is completely cool, re-melt your leftover wax and fill the holes in the wax. Try not to pour higher than your original fill line. Doing so will leave a line of non-crystallized wax on the bottom of your candle, as seen in the example photo. This will provide a unique look, but may not be desirable to all candle makers. Allow your second pour to cool completely.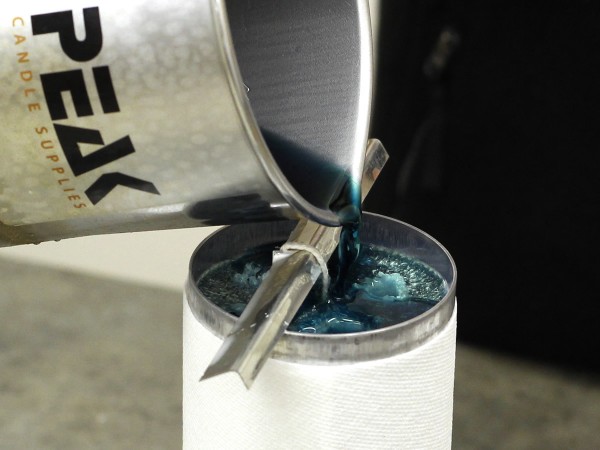 Step 7. Once your candle is completely cool remove all of the paper towels, mold sealer and wick screw. Gently remove the candle from the mold and trim the wick at both ends, leaving about ¼" at the top.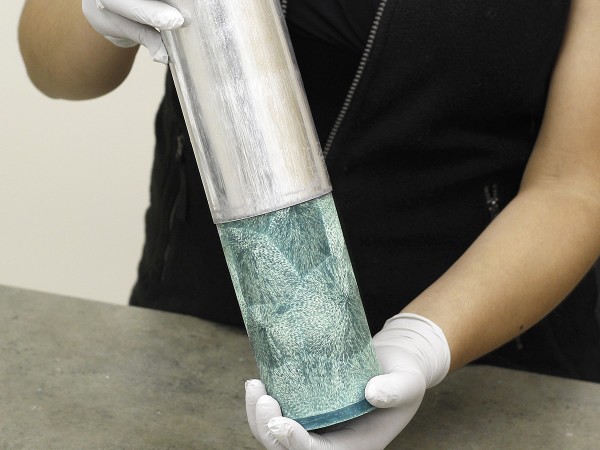 Note: Be sure to burn on a designated candle holder, and do not burn unattended. Palm wax burns much differently than paraffin or soy. Since it is more viscous, and more brittle, you will notice a thin shell of wax left as the wick burns down. Palm wax pillars are not recommended to burn for more than 3 hours at a time, as the heat from the wick as it burns down can cause a hole to melt in the wax shell, which may cause the melt pool to leak out. Always pay close attention when test burning your candles to find the safest suitable wick for your projects.