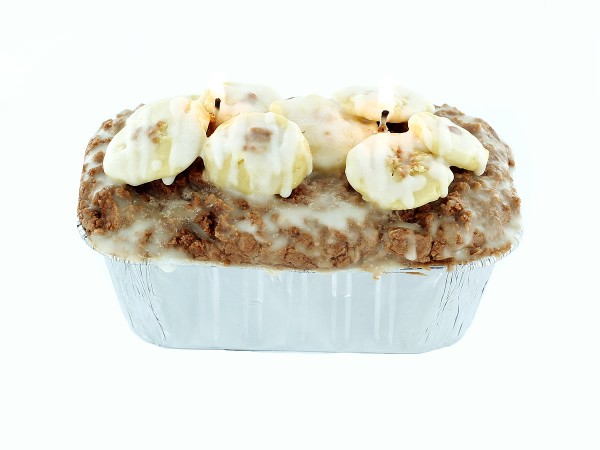 Learn to make this candle version of a delicious fall treat: banana nut bread!
You Will Need:
-Aluminum Loaf Mold
–Paraffin or Soy Wax
–Beeswax
–Banana Nut Bread Fragrance Oil
–Brown Liquid Dye (or Dye Chips)
–Pre-tabbed Wicks
–Wick Stickers or Hot Glue
–Plain Soap Mold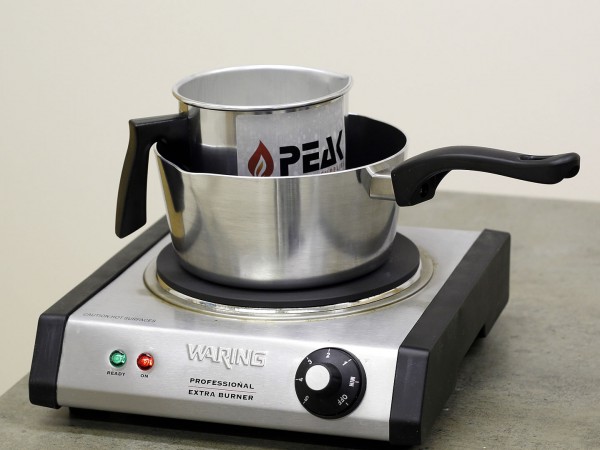 Step 1:
Weigh out the amount of wax needed for your loaf mold. We found our mold at the local Dollar Tree. If you are not sure how much your mold will hold, try our Handy Calculator. You can use any wax for the filling of the mold. Melt the wax using the double boiler method.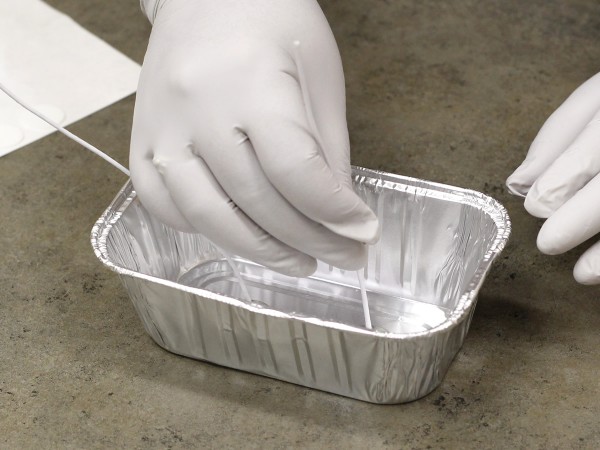 Step 2:
While your wax is melting, secure your pre-tabbed wicks to the bottom of the mold using Wick Stickers or Hot Glue. Since the loaf mold is rectangular, we will be using two C-70 Cotton Core Wicks spaced equally apart for a more even burn.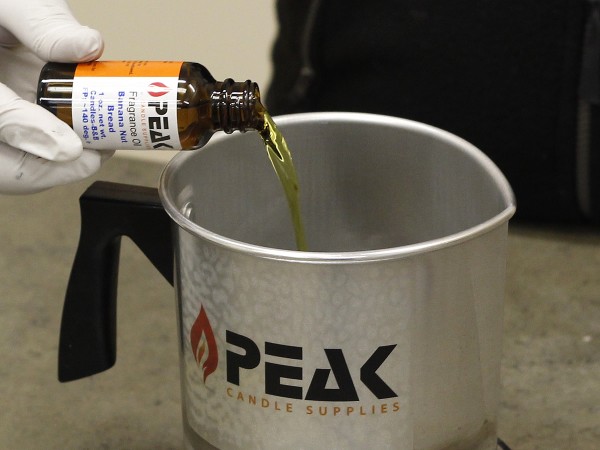 Step 3:
Once your wax has melted to a temperature of about 175-180 degrees F. add your fragrance and dye, and mix thoroughly. We recommend to measure out your fragrance on a scale to ensure you are using the correct amounts. We will be using Brown Liquid Dye, and Banana Nut Bread Fragrance Oil. The standard ratio of fragrance per pound of paraffin wax is 1 oz. per 1 lb. of wax. For soy, you can use 1.5 oz per pound.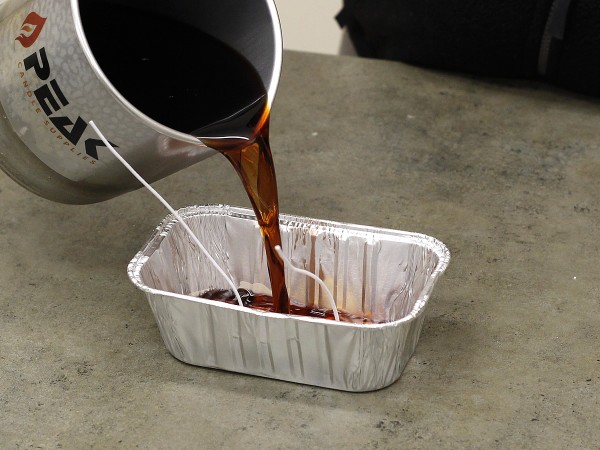 Step 4:
Pour the wax into your mold and allow to cool. While it is cooling, melt some more wax for the top of the candle. Paraffin pillar waxes such as IGI 4625 or IGI 1343 work best to get the chunky, grubby look for the top, but you can use just about any wax you prefer. We melted about 8 oz of wax for the top.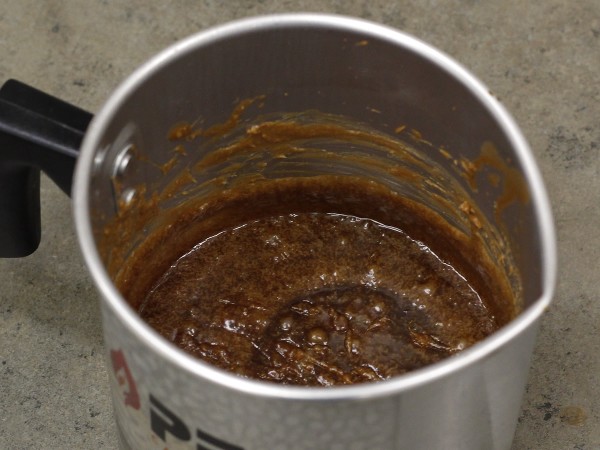 Step 5:
Once it is melted, add your fragrance and dye, and remove from the heat. Whip the wax using your whisk until it begins to thicken to the consistency you think looks best for the top of your loaf.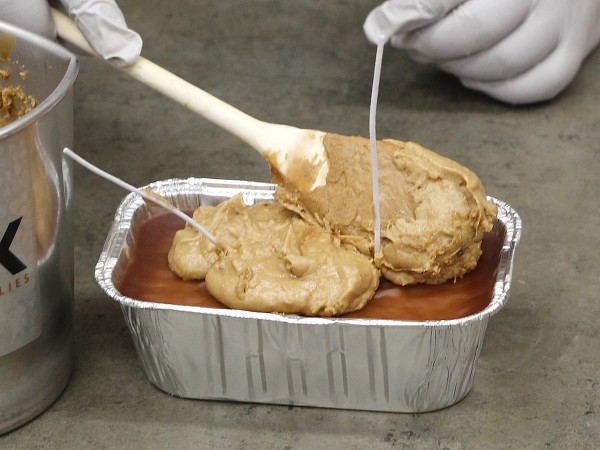 Step 6:
Use a spoon to scoop the wax out of the pouring pitcher and on to the top of your first layer of wax. We added about an inch of height to the top of the candle with ours. Try fluffing the wax with a fork if it is not the consistency you like.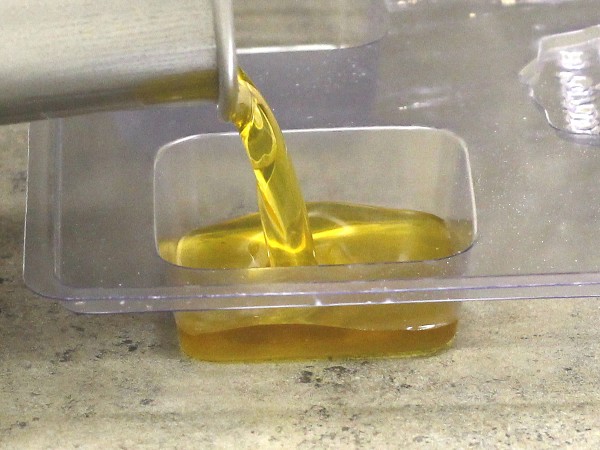 Step 7:
The next step will be to make the banana slices. Melt a small amount of wax; about 2-4 ounces depending on how many banana slices you want to make. We recommend using beeswax since, it is more flexible and easy to mold with your hands. We mixed about 75% white beeswax with 25% yellow to get a light yellow banana color, but if you want to use a white wax, you can add just a bit of yellow colorant instead. Pour the melted wax into a plain mold such as the Square Soap Mold and allow to cool.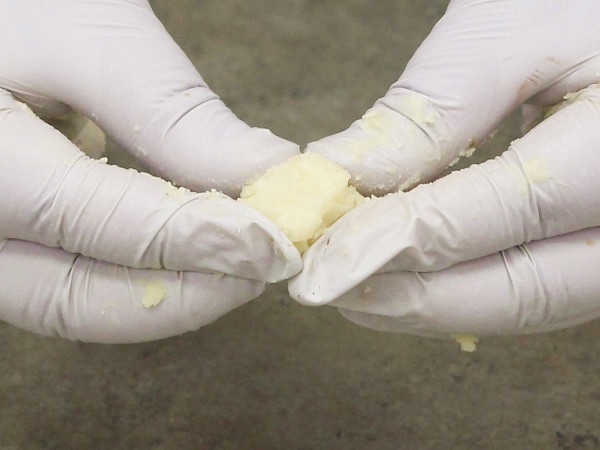 Step 8:
Once the beeswax has solidified, cut pieces with your hands and mold into ball. Then smash it down to look like a circular slice of a banana. Do this until all of the beeswax has been made into slices.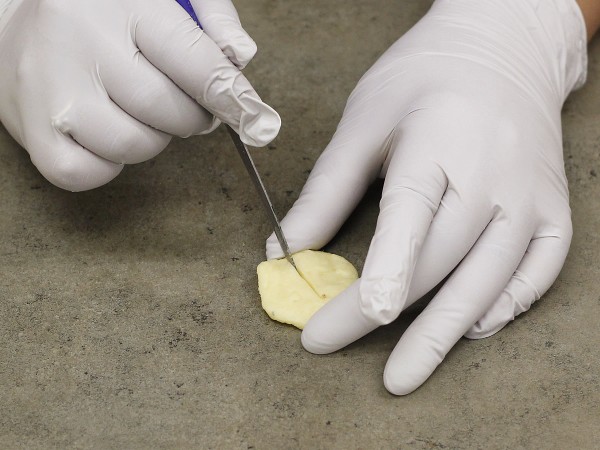 Step 9:
Use a paring knife to make small cuts in the center of the slices to look more like a real banana. We also took some leftover brown wax and scraped it onto the center of the slices as well for more detail.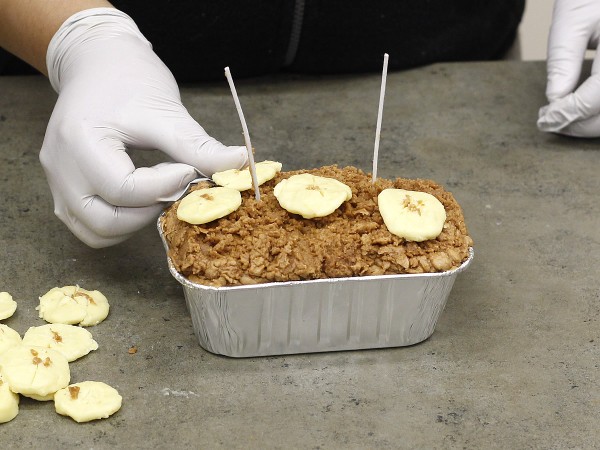 Step 10:
Once the bananas are done place them on top of your loaf in any way you desire. We scattered ours across the top.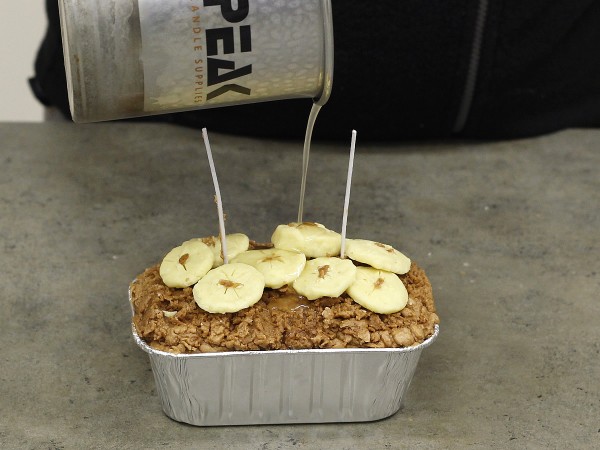 Step 11:
Melt a little bit more wax for the frosting. You should only need about an ounce for this step. Once it is melted, whip it with your whisk until it is a thick, syrupy consistency, and drizzle it on top of the entire loaf.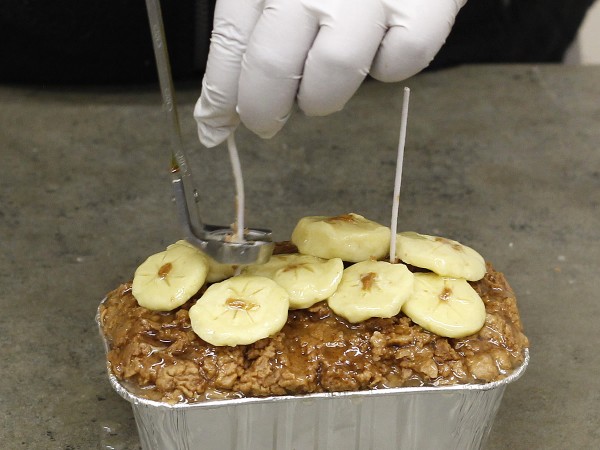 Step 12:        
Once the candle has completely cooled, trim the wicks to about ¼" and enjoy!