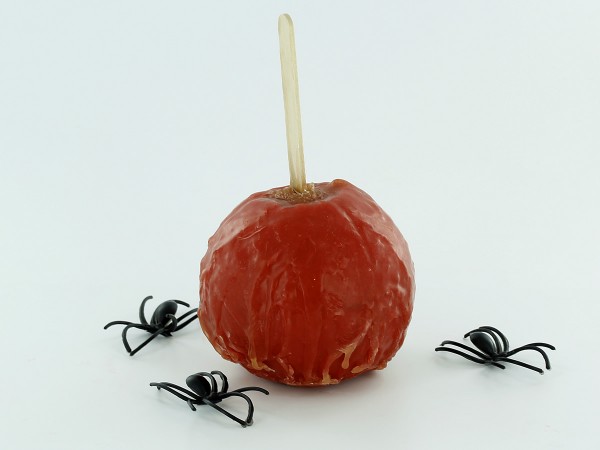 This caramel apple soap is so cute for Fall!
You Will Need:
-Ball Mold (We used our Seamless Aluminum Ball Mold designed for candles)
–Mold Sealer
–White Melt & Pour Soap Base
–Clear Melt & Pour Soap Base
–Red Oxide and/or Allura Red Liquid Colorant
–Brown Oxide
-Popsicle Stick
-Wax Paper or Plate
-Microwave Safe Pouring Container
–Bath & Body Safe Fragrance Oil (optional- we used Macintosh Apple and Caramel Apple)
–Scale (recommended)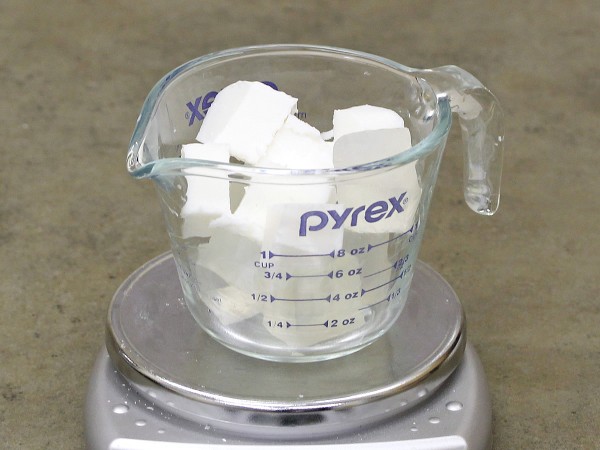 Step 1:
Melt enough soap for your ball mold (if you are using the Seamless Aluminum candle mold, melt about 8 ounces of soap. Tip: We used a 50/50 blend of clear and white soap bases, so that it maintains an opaque appearance but takes less colorant to get a deeper shade.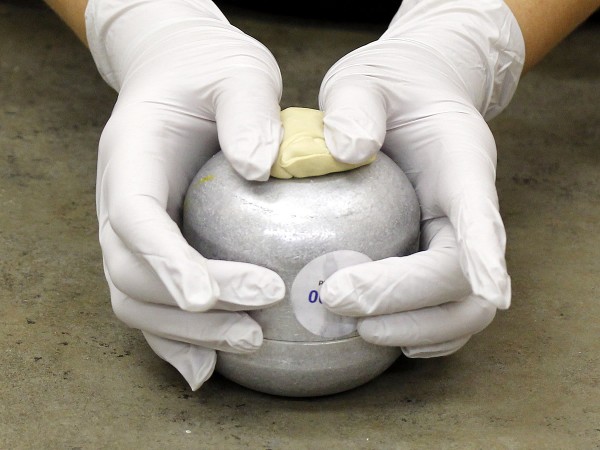 Step 2:
Prepare your ball mold by covering the wick hole with mold sealer and placing it on a surface to keep it straight and steady (we used a 6 oz. Travel Tin). Tip: You may also want to spray the inside of the mold with unflavored cooking spray to aid in release.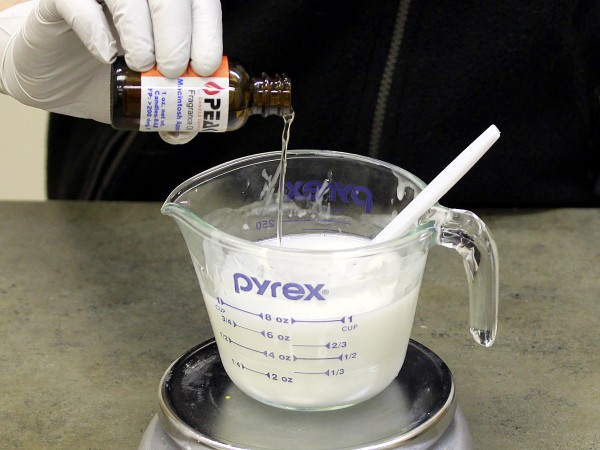 Step 3:
Add your fragrance oil, if desired, and mix thoroughly. For 8 ounces of soap, we recommend using about ¼ ounce of fragrance oil.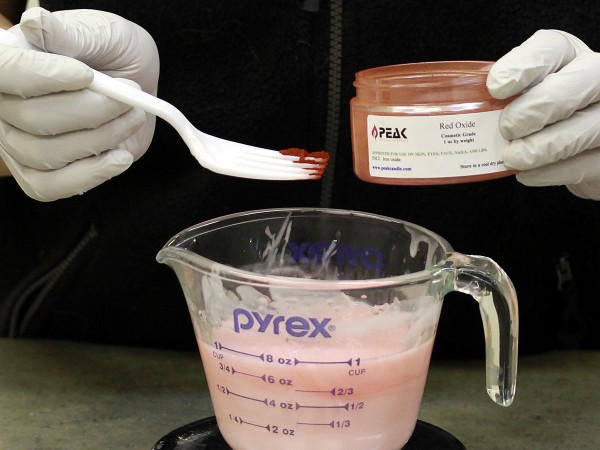 Step 4:
Add your red colorant and mix thoroughly until the desired color is achieved. A combination of the Red Oxide and Allura Red Liquid Dye will achieve a good red apple color. Tip: It doesn't have to be a perfect, deep red, as it will be covered in caramel colored soap later. You can also do green or any other apple color if preferred.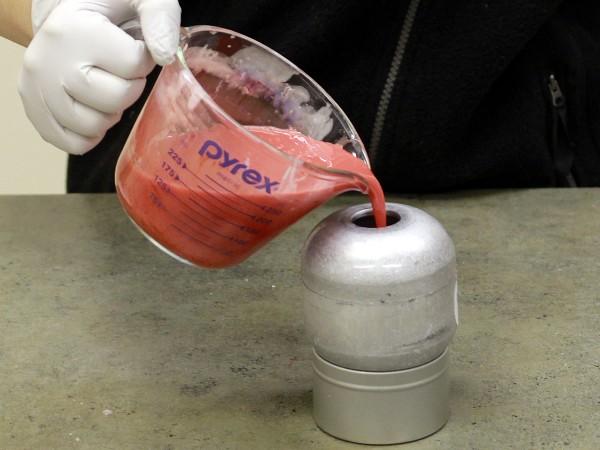 Step 5:
Pour the soap into the ball mold through the larger hole at the top. Fill the mold all the way up to the hole. Allow to cool.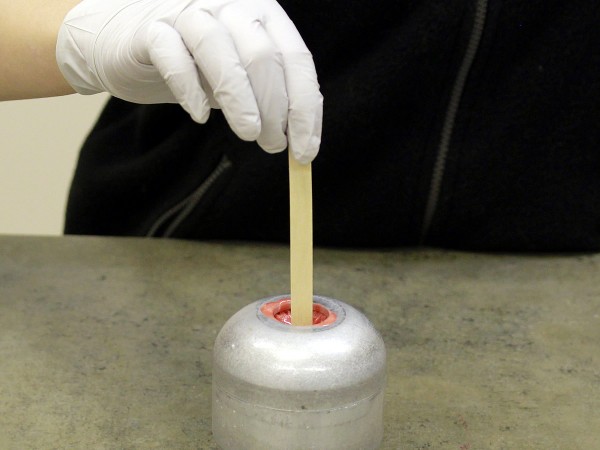 Step 6:
Once the soap has cooled to a consistency that is firm, but not fully solid, insert the popsicle stick. If the center of the soap is still liquid and the stick won't stay in place, remove the stick, allow to cool a while longer, and try again. Allow to cool completely once the popsicle stick is in place.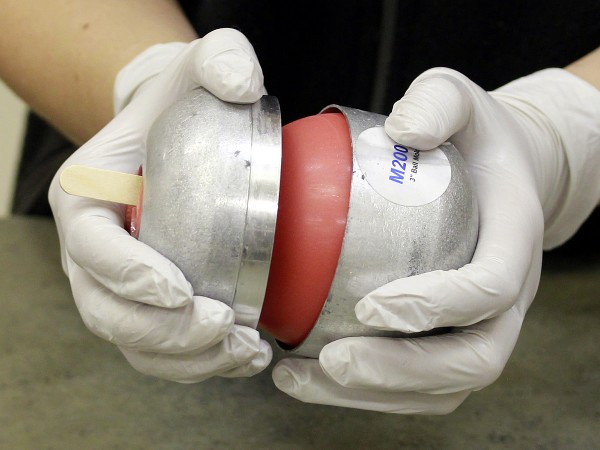 Step 7:
When the soap is completely cool, open the two ends of the mold and remove the soap. Set aside on a piece of wax paper, plate, or some other surface that you don't mind getting messy.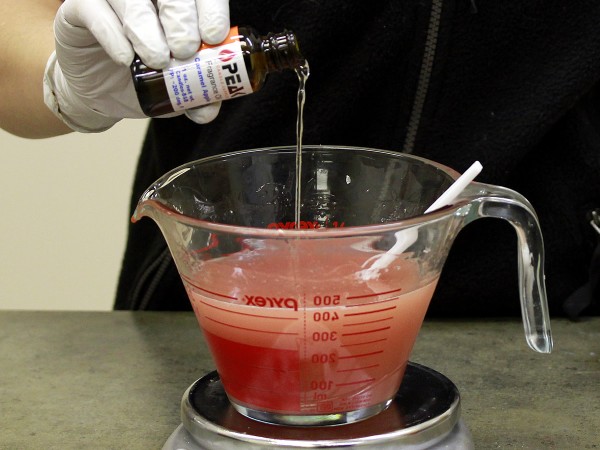 Step 8:
Melt some more soap in the microwave. This time, you want to add more clear soap to make it more translucent. We had a small amount of the red soap leftover from the first pour, and just added some more clear base to it. Add some more fragrance, if desired, and mix thoroughly.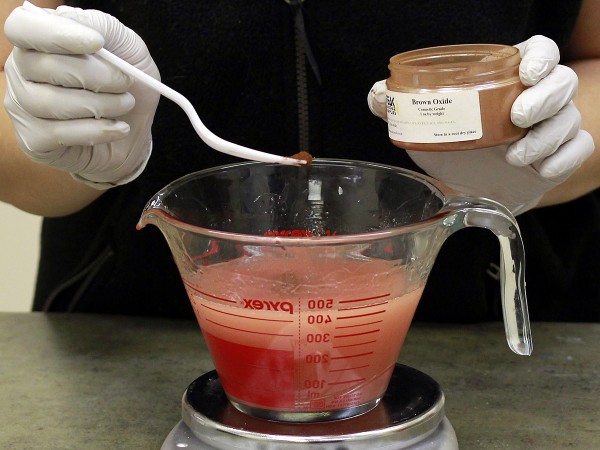 Step 9:
Add some Brown Oxide in small amounts and mix thoroughly until a caramel color is achieved. You may want to add a little more Red Oxide as well if it is too brown.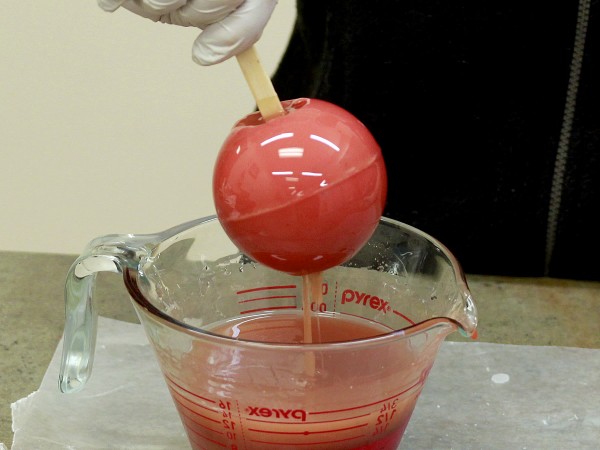 Step 10:
Dip the apple soap into the caramel soap several times until a thin layer is achieved. Place the apple soap back on the wax paper.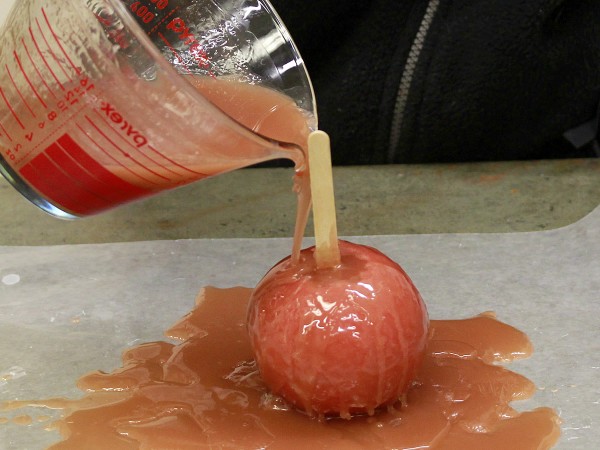 Step 11:
Slowly and carefully drizzle the caramel soap over the apple. If the soap is too runny, allow it to cool for a little while before continuing to drizzle. Do this multiple times until the soap looks like a caramel apple! Then allow to cool completely. Then, peel the soap off the wax paper and cut off any excess around the bottom with a small knife.