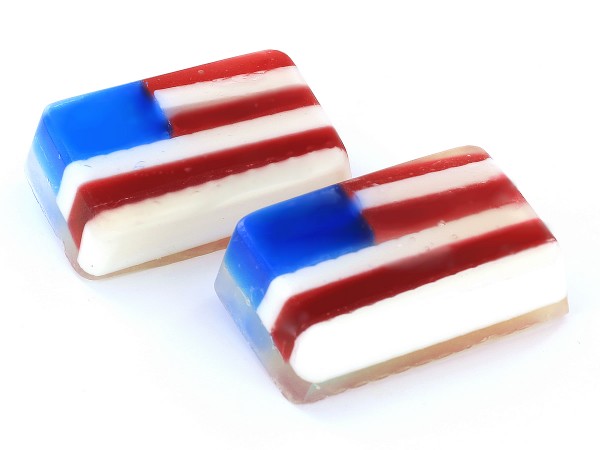 Show your patriotism with these cool American flag soaps!
You Will Need:
–White Soap Base
–Clear Soap Base
–Rectangle Soap Mold
–Brilliant Blue Liquid B&B Colorant
–Allura Red Liquid B&B Colorant
–Magenta Liquid B&B Colorant
–Bath & Body Safe Fragrance Oil (optional)
-Microwave Safe Pouring Container
-Large Knife
–Scale (recommended)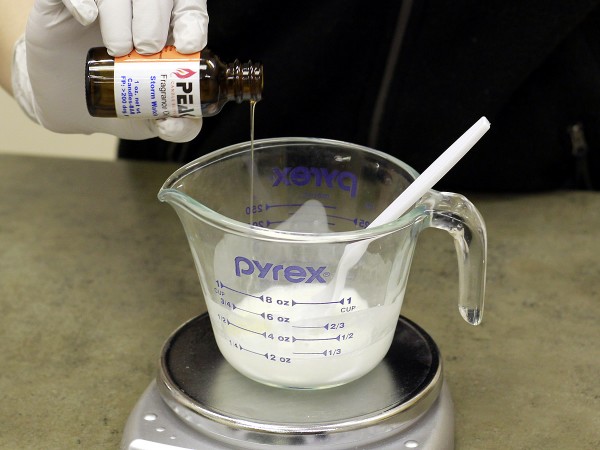 Step 1:
Melt about 2-3 ounces of white soap base in the microwave. Add a small amount (3-4%) of fragrance oil and mix thoroughly. Do not add color.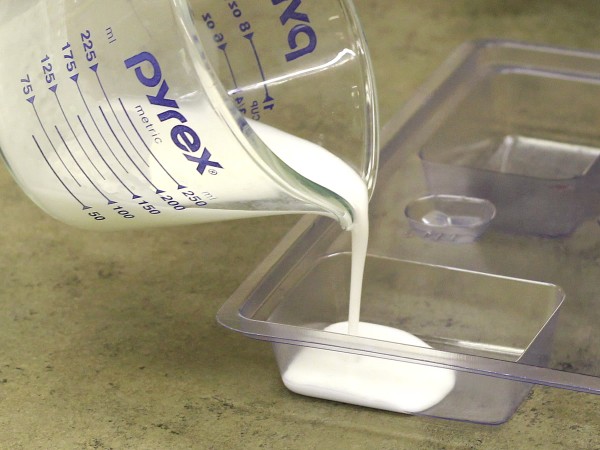 Step 2:
Pour the white soap into one of the rectangle mold cavities and allow to cool.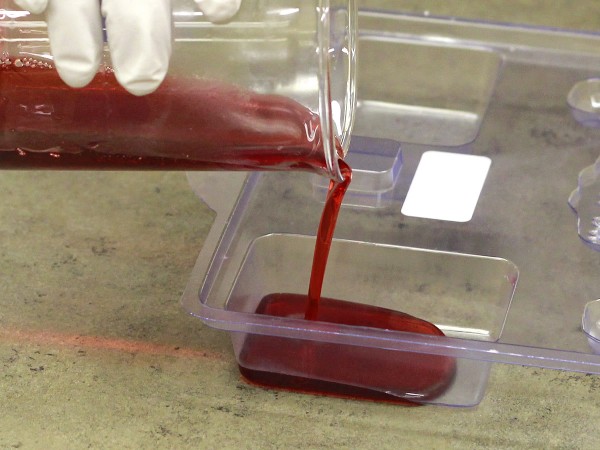 Step 3:
Repeat steps 1 and 2, adding liquid colorant to make a red soap and a blue soap of the same size. For a deep red, we used the Allura Red Liquid Colorant plus a few drops of Magenta.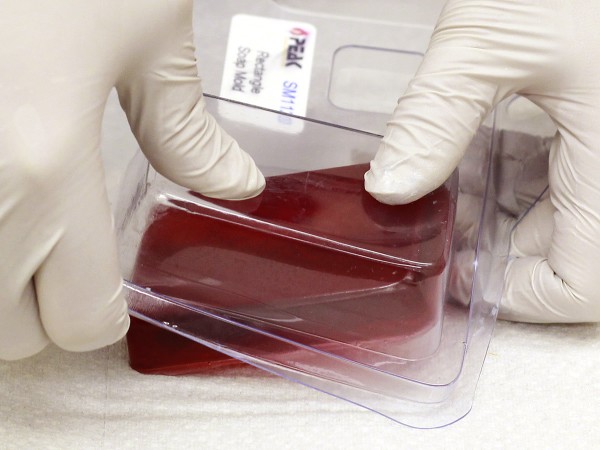 Step 4:
When all of the soaps have cooled, remove them from the molds. If you have trouble removing them, try placing them in the refrigerator for a few minutes and try again.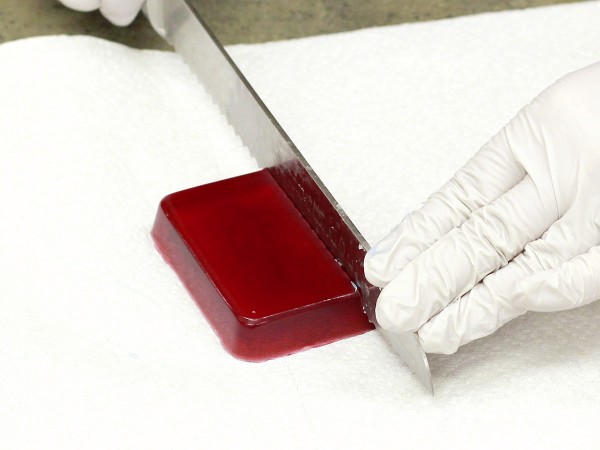 Step 5:
Carefully cut the blue soap into small rectangles, and the red and white soaps into thin strips to form the stripes.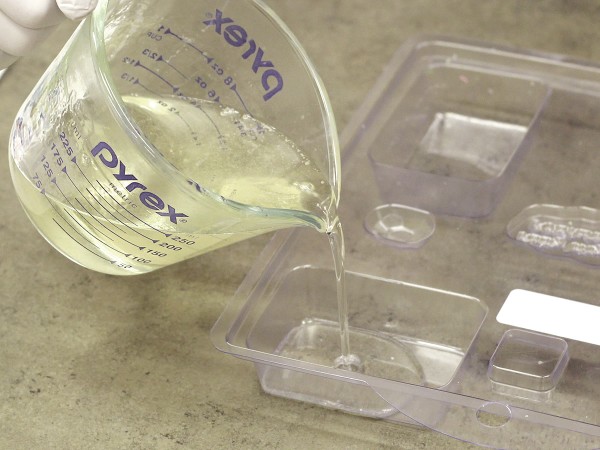 Step 6:
Melt some more clear soap base in the microwave and add fragrance if desired. Pour a thin layer of clear soap on the bottom of the rectangle soap molds.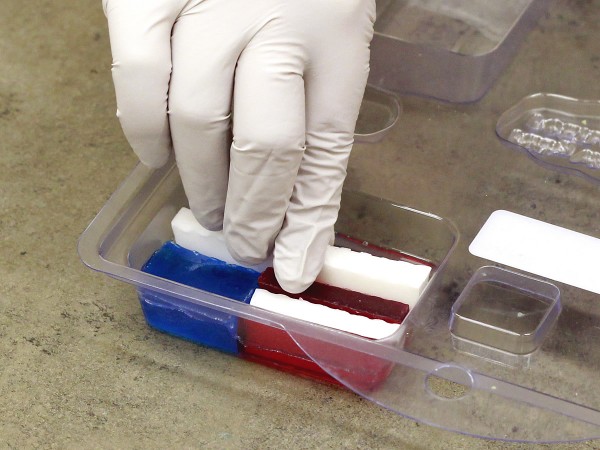 Step 7:
Arrange the stars and stripes chunks in the molds to form a flag, gently pressing them into the clear base but not all the way to the bottom of the mold. Remember: The flag must look backwards to you so that the finished flag will point the right direction.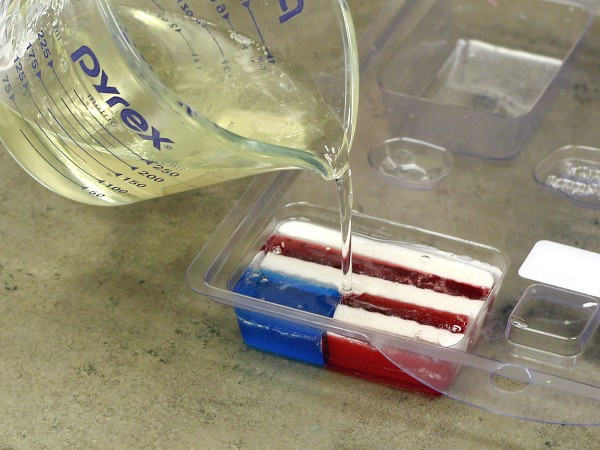 Step 8:
Re-melt the clear base if necessary and do a final pour to the top of the rectangle molds. Allow to cool completely.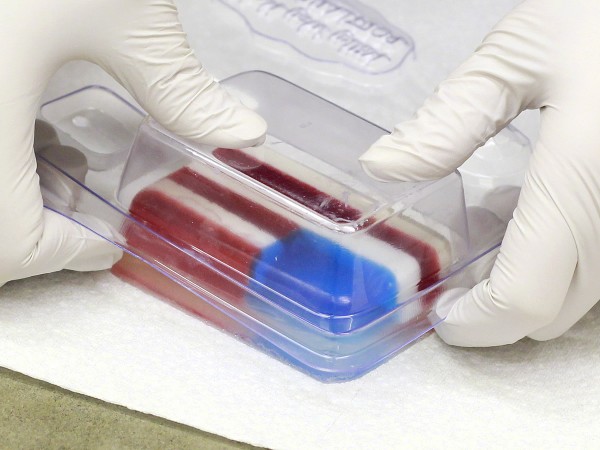 Step 9:
When the soaps have cooled completely, gently remove them from the molds and enjoy!